Walt Disney World Resort Update for June 27, 2023
by
MousePlanet Staff
, contributing writer
Walt Disney World Resort Update for June 27, 2023
You can view a larger version of the individual photos included in the Update by clicking on the photo; the photo will open in a separate tab without a caption. For the Instagram, Facebook or Twitter posts embedded in the Update, you can click them and view images or videos on the respective sites too.
Writer's Note, News & Views
Hello, it's Adrienne Vincent-Phoenix finalizing this week's Walt Disney World Resort Update because, at publication time, Alan Dalinka was back in Chicagoland visiting family and friends. By the time you're reading this, he's probably already back in Central Florida. Before he left, he had a chance to attend the Disney Springs Flavors of Florida invited media preview for the annual food and beverage event returning to the retail, shopping and entertainment district July 1 to August 13. You'll find his report below.

During Pride Month, Disney Springs Town Center has had this photo opportunity. Photo by Alan S. Dalinka.
Flavors of Florida
Disney Springs Flavors of Florida returns July 1 to August 13 with menu items "with a Florida twist" at many of the food and beverage venues across the retail, shopping and entertainment district of Walt Disney World Resort. MousePlanet was invited to a media event last week highlighting some of the offerings and new parts of the event with some of the headliners like internationally recognized chefs José Andrés and Art Smith, who are owner/operators of Disney Springs venues.

Paella was served at Jaleo while chef José Andrés addressed the media invited to the preview at his Disney Springs restaurant. Photo by Alan S. Dalinka.
This year's edition of Disney Springs Flavors of Florida has an added a weekly culinary series headlined by internationally recognized chefs such as José Andrés and Art Smith. The culinary series events will be held at Waterview Park near The Boathouse restaurant. Each week's featured chef or prominent restaurant owner will stage a culinary experience spotlighting some of their most popular dishes and drinks, including some of those on Disney Springs Flavors of Florida menus. During the invited media event on June 20, chef José Andrés, the culinary innovator who operates over 35 restaurants, including Jaleo by José Andrés at Disney Springs, talked about his famous recipe for paella.
The featured restaurants in the culinary series events will be Wine Bar George (July 7), The Polite Pig (July 14), Chef Art Smith's Homecomin' (July 21), Gideon's Bakehouse (July 28), and the final event hosted by acclaimed Disney chefs on August 4. There is no admission charge to the culinary events, but registration is required at disneysprings.com/culinaryseries. Attendees will have the opportunity to sample the dishes as well as interact with the chefs.
Photos by Alan S. Dalinka.
Genie+ now offers single-park option
Disney this week rolled out a change to the Genie+ service, and if possible, has added even more confusion to what some people already consider an overly frustrating experience.
The Walt Disney World website now notes, "Beginning June 27, Guests at Walt Disney World Resort will now purchase Disney Genie+ service based on how they want to visit. Guests will be able to select either a single-park option or a multiple-parks option, subject to availability. With this update, prices may now be lower at some Walt Disney World theme parks compared to others."
And indeed, a person trying to buy Disney Genie+ today was presented with five purchase options, with different prices for each park, and a park-hopper option.

Visitors have several options for Disney Genie+ purchases. MousePlanet photo.
That sounds pretty simple, but it adds another variable into the decision of whether to buy Disney Genie+, and for which park(s).
The idea of offering potentially lower prices for some of the parks seems like a great customer service move, but splitting the parks up actually allows Disney to sell more Genie+ packages. In the past, Disney Genie+ pricing and availability was tied to attendance at Magic Kingdom park. When Magic Kingdom was packed, the price went up. And when Disney Genie+ sold out, that was it for the entire resort.
With this change, Disney can still peg the price and availability of the park hopper option to the Magic Kingdom, but can continue to sell Disney Genie+ at the other three parks even after Magic Kingdom sells out if its Genie+ allocation for the day. And Disney can now adjust the price for those other parks to be more in line with what they offer. A guest visiting only Animal Kingdom on a day when Disney Genie+ spikes to $35 is less likely to purchase the service, considering there are only seven eligible Lightning Lane attractions in that park. But if the price were closer to $20, they might be more willing to splurge.
Genie+ is simply more "valuable" at Magic Kingdom, with 18 eligible Lightning Lane attractions, compared to Epcot and its 11 eligible attractions. This change lets Disney continue to charge a premium for Magic Kingdom, while also capitalizing on uptapped potential at the other theme parks.
For today at least, the Magic Kingdom option was the same price as the Park Hopper option, and guests visiting Magic Kingdom with park hopper tickets would be well served to purchase the Genie+ park hopper to have maximum flexibility for their day. But what about the person who starts their day at Animal Kingdom, and *might* go to Epcot for the evening? They have to decide if the $11 per person upcharge is worth it to have Lighting Lane access at Epcot, or just rely on the standby queue. On the busiest of days, that's a decision that needs to be made pretty early, because there's one more scenario that could cause a wrinkle in your plans: Once any one theme park sells out of its Disney Genie+ allocation for the day, Disney will also stop selling the Park Hopper option, and will instead offer only the one-park option for the remaining available parks. This could actually result in you paying more for Disney Genie+ if you opt to purchase the one-park option for two parks.
We couldn't find a way through the Disney app to upgrade from the one-park Genie+ to the park-hopper option, but we imagine Guest Relations can help with those issues.
We're curious what you think about this change—is it a net benefit to you as a traveler, or is it one more layer of complexity?
New tiara tops Tiana's tower

Princess Tiana's tiara tops the new water tower outside Tiana's Bayou Adventure. Photo courtesy Olga Thompson / Disney
Walt Disney Imagineering released a photo of the new tiara-topped water tower that was installed overnight in the Magic Kingdom. The tower is the marquee for the upcoming Tiana's Bayou Adventure attraction, slated to open in 2024. The Princess and the Frog reworking of Splash Mountain has been under construction since January.
Ferrytale Fireworks cruises are back, and more expensive than ever
A popular upcharge event has returned to Walt Disney World following a four-month refurbishment.

The Ferrytale Fireworks cruise offers a unique view of the Magic Kingdom fireworks, but you'll miss many of the effects you would otherwise see from Main Street. MousePlanet file photo.
The Ferrytale Fireworks cruise sets sail on select Wednesday and Saturday nights, and offers a unique view of the fireworks over the Magic Kingdom. The two-hour cruise takes passengers on a sightseeing tour of Bay Lake and the Seven Seas Lagoon before motoring into position for fireworks viewing. During the experience, visitors can nosh on an assortment of cheese, fruit and pastries, along with a selection of specialty beverages. Adult passengers can enjoy alcoholic drinks.
The cruise takes place on the same ferry boats that Disney uses for transportation to and from the Transportation and Ticket Center (TTC), which offers very limited seating. Prepare to stand for the majority of your voyage. Food and beverages are offered on both decks, and there are cocktail tables around for your use. The lower deck is wheelchair accessible, but there is no lift access to the upper deck.
While the Magic Kingdom fireworks are the focus of the excursion, note that you're viewing the show from quite a distance. Certain effects, such as flying characters and castle projections, are not visible from the ferry. You also need to make sure to snag a spot along the railing fairly early into your voyage for the best view—otherwise you'll be behind two or three rows of people. I tend to recommend this cruise as a splurge for people who will get their moneys worth from the dessert buffet and open bar, but it's not ideal for a first viewing of the fireworks.
The price is now $130 per guest age 10 or older, and $100 per guest age 3–9, a $30 increase. Guests staying at a Walt Disney World resort hotel can book up to 60 days prior to their check-in date; all other guests can book 60 days in advance. Limited same-day reservations may be available. Check the Walt Disney World website for details.
This & That & Reminders…
...During an interview with The Points Guy, Josh D'Amaro, Chairman of Disney Parks, Experiences and Products, spoke briefly about the Galactic Starcruiser hotel and experience. Of the project, which will close on September 28 after just one year of operation, D'Amaro said, "I know not everything's going to work. What did work, though, is we took creativity and storytelling to a completely new level, to a level that had never existed before. ... It didn't work commercially. And so, when we realized that, you just make a call and move on." D'Amaro would not give any hints about the future of the 100-room hotel, but promised that "something will happen."
...Disney released their Fourth of July Foodie Guide this morning, detailing all of the snacks and drinks to be available next week to celebrate Independence Day. Among the usual assortment of star-spangled cupcakes and over-the-top frozen drink concoctions are a few creative standouts. My favorite is available to guests at the All-Star Movies, Music and Sports resorts. The fun twist on an American classic features a "hot dog" éclair with chocolate buttercream, paired with iced sugar cookie "fries," and raspberry dipping sauce. Some of the menu items are available only for one week while others are offered through the end of July, so check out the guide for details.
...Drawn to Life Presented by Cirque du Soleil and Disney announced a new sale this week, with discounted tickets starting at $59 for adults and $44 for children (excluding taxes and applicable fees). Tickets can be purchased at www.cirquedusoleil.com/drawn-to-life or at the Disney Springs box office and are subject to availability.
…FINAL REMINDER: "V.I.Passholder Days" are underway at Walt Disney World Resort in June, with special offers and experiences available through June 30, 2023 (in some cases, while supplies last):
The new complimentary Passholder magnet featuring Figment is available at Creations Shop at EPCOT from 9 a.m. until 9 p.m. daily, while supplies last.

There is still time to pick up the Figment themed Passholder Magnet at Creations Shop during regular park hours and supplies last. There ino virtual queue for this magnet; Passholders must show photo ID and have the cast member at the distribution spot tap their annual pass (card, Magic Band, Magic Band+, or Disney MagicMobile on a supported device). Look for the door marked with the magnet distribution signs. Photo by Alan S. Dalinka.
Passholder discounts for food and beverage (where offered at all) are increased from 10% to 20% across the property; during this time only, Passholders also receive 20% off food and nonalcoholic beverages at 15 select Outdoor Kitchens at EPCOT International Flower & Garden Festival. The Passholder Buzz lists those included, and they go a bit beyond the Festival kiosks to include Refreshment Port, Refreshment Outpost, and The Land Cart. Generally, if you know which locations are not run by Disney itself (but, rather its operating participants), those are the ones that are not offering discounts.
Passholder discounts for merchandise (where offered at all, usual exclusions apply) are increased from 20% to 30% across the property.
Special Disney PhotoPass offerings are available at Disney's Animal Kingdom featuring WALL-E and EVE by Discovery River near the Tree of Life, between 10 a.m. and 5 p.m. daily; Figment-inspired props are available for photo poses near the fountains at Imagination pavilion from 10 a.m. to 8 p.m. daily. The photos, however, are only available if you also purchase the photo downloads benefit or purchase the individual photos.
And, in a surprise of sorts, there's also an Annual Passholder lounge of sorts in The Land pavilion at EPCOT. It's in the seating area next to the queue for Living with the Land and admission is granted by just showing your Annual Pass.
For the first time in quite awhile, there's also a Passholder "lounge" at EPCOT in The Land in the seating area next to Living with the Land's queue — and, at least today, they were giving out Figment stickers with the same design as the Magnet, and complimentary snacks (tho… pic.twitter.com/5np3c6MH1T

— MousePlanet (@MousePlanet) May 31, 2023
…REMINDER: Disney Vacation Club Moonlight Magic details and registration for the remaining complimentary events at Walt Disney World Resort are posted on this page of the DVC website. Early registration occurs once for each park hosting a Moonlight Magic Event, where DVC members with Disney Resort hotel reservations falling on the day of an event may register for the event; General registration takes place on specified dates for each event. The remaining complimentary but registration required after-hours events in the parks for members and their guests are:
Disney's Animal Kingdom – August 2. General registration is July 19 (early registration has closed).
Disney's Typhoon Lagoon Water Park – August 23. General registration is August 9 (early registration has closed).
Disney's Hollywood Studios – September 13. General registration is August 31 (early registration has closed).
For "early registration," an eligible DVC member must have resort reservations at a Disney-owned-and-operated hotel at Walt Disney World Resort in Florida or at Disney's Vero Beach Resort—with party size modifications finalized prior to the respective deadlines. Eligible DVC members are those who are eligible for member extras. Any eligible DVC member (regardless of hotel reservation status) may attempt to register for an event during "general registration" pending availability. Members can register up to a party size of five (including the member) or, when registering during the early registration period, up to the number of guests on the resort reservation finalized by the applicable deadline. Modifications to a hotel reservation's party size after the deadline will not change the party size for the event. Children under age 3 do not need to be registered for the event.
For all of these DVC events, "eligible" member generally means that the member bought their points directly from Disney rather than a third-party resale.
…FINAL REMINDER: Paddlefish at Disney Springs is offering Summer Savings through June 30, 2023: buy a $100 gift card and receive a bonus $25 gift card valid through September 30, 2023. In addition, Florida residents (with proof of residency) save 25% at the restaurant through August 31, 2023. Next door neighbor, Terralina Crafted Italian offers the bonus gift card and Florida resident savings too.
…FINAL REMINDER: During June, Jaleo Disney Springs is offering "the ultimate Spanish experience" with Flamenco Fridays, featuring live performances from talented flamenco dancers during dinner service. Beginning at 7:30 p.m. on every Friday of June, guests can enjoy Spanish tapas and shareable pans of paella, while watching "a mesmerizing art form—unique to the Southern regions of Spain—that is filled with flare and raw emotion." Tapas include Tortilla de Patatas, Spanish omelet with potatoes and onions, while larger plates include Lubina a La Pobre, whole roasted Branzino served with potatoes, olive oil and fresh herbs, and of course—a variety of wood-fire grilled paellas. Sangrias, cocktails and wine are also available. Reservations recommended.

Jaleo Disney Springs is located on The West Side. File Photo by Alan S. Dalinka.
…REMINDER: The Walt Disney World Swan and Dolphin Food & Wine Classic has announced the line-up of interactive food and beverage seminars taking place during this year's event, Friday, November 10 and Saturday, November 11, 2023. During the educational seminars, guests can expand their knowledge of wine, beer, spirits, or pasta-making through hands-on learning experiences led by the resort's award-winning food and beverage team. Updates for this year's seminars include Craft Cocktails offered both Friday and Saturday and Wine Blending adding a bottling component in which guests will leave with their own bottled custom Meritage blend to take home. The 2023 seminar line-up includes:
Craft Cocktails – Friday and Saturday
Wine Blending – Friday and Saturday
Pasta Making – Friday
It's Better to Wine in Italian (Italian Wines) – Friday
Base to Bubbles (Champagne) – Friday
Beer, Please! – Saturday
The seminars will take place prior to the outdoor festival. It's Better to Wine in Italian and Beer, Please! seminar tickets are $75 per person, excluding tax. Base to Bubbles, Wine Blending, and Craft Cocktails seminars are $85 per person, excluding tax. Pasta Making seminar tickets are $110 per person, excluding tax. All seminars require separate tickets and space is limited. Specific dates and times of each seminar are available at foodandwineclassic.com. The Swan and Dolphin Food & Wine Classic offers guests unlimited tastings at creatively spaced, outdoor stations featuring culinary and beverage selections from the hotel's award-winning restaurants amidst a festive backdrop of live entertainment on the hotel's scenic causeway. The event runs from 5:30-9 p.m. on November 10–11, 2023. For more information, visit swandolphinfoodandwineclassic.com.
…REMINDER: Give Kids the World Village, the non-profit resort that provides week long, no cost Central Florida vacations to critically ill children and their families, will host "An Evening with Pat Sajak," the television personality (and regular Candlelight Processional narrator) who just announced his retirement at the conclusion of his 41st season as host of TV's "Wheel of Fortune." The event will be Saturday, August 12, 5:30 to 9 p.m., at Give Kids The World Village 210 South Bass Road Kissimmee, FL 34746. Parking is free. Tickets start at $34.99 (with a VIP experience also available) at this EventBrite page. Ticket proceeds benefit Give Kids The World Village.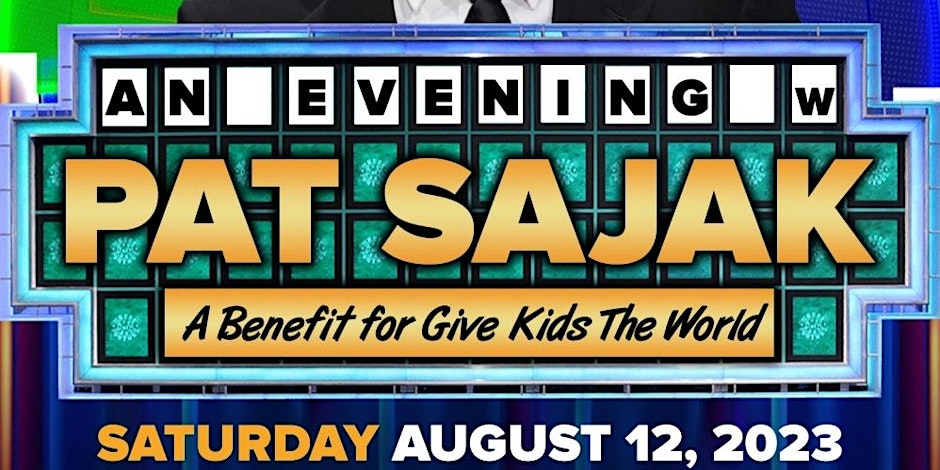 The Village's speaker series continues on August 26 with an evening with Linda Larkin and Jonathan Freeman, the voices of Princess Jasmine and Jafar from the classic Disney animated film Aladdin. Tickets start at $59.99 (with a VIP experience also available) and are available at this EventBrite page.
The Usual Writer's Note (Updated)
Face coverings remain optional across all of Walt Disney World Resort. Remember to check this page of DisneyWorld.com for the latest requirements. It remains unlikely that the State of Florida will impose new requirements. As always, be sure to pay attention to updates to the policies around Walt Disney World Resort.
As has been true throughout the past several years, if you're traveling to or from overseas, be sure to check with the places you're visiting and traveling from or through for the latest rules. Though most requirements have been relaxed or removed, it remains important to check on and abide by the most up-to-date COVID-19 testing and vaccine requirements for entering the United States whether as a citizen, permanent resident, or visitor (and be aware of who needs a visa).
Disney Park Pass reservations continue to be required for admission to Walt Disney World theme parks when purchasing undated tickets or usual an annual pass (in addition to a valid ticket). If your tickets have the Park Hopper option, Park Hopping only becomes available after 2 p.m. daily, and only after you have first visited the park for which you have made a reservation that day. There have been instances where Magic Kingdom has reached capacity and paused admission of Park Hoppers, as Disney reserves the right to do so at all the parks. Passholders are no longer required to make reservations to visit parks after 2 p.m. except for Magic Kingdom on Saturday and Sunday .
Speaking of Annual Passes, sales of new ones resumed back in April. All Passholders may continue to purchase renewals in all tiers, and, now may upgrade pass type before renewal by paying the difference in price. As Disney reserves the right to limit quantities of passes available, sales may pause at any time, so be sure to check https://disneyworld.disney.go.com/passes/ for the latest availability. Logging in to the site with existing MyDisneyExperience credentials can direct you to purchasing opportunities for Florida Residents and Disney Vacation Club Members if those details are already tied to your account.
Note Disney now has a "Courtesy" section included in its "know before you go" webpage on DisneyWorld.com which states:
Be the magic you want to see in the world. You must always remember to treat others with respect, kindness and compassion. Those who can't live up to this simple wish may be asked to leave Walt Disney World Resort.
Remember that it is Tropical Storm season for those of us near the Atlantic Ocean. Keep an eye on the weather alerts for the region you plan to visit, especially if that involves flying into Central Florida. Disney typically only closes the parks when a significant storm is tracking toward Walt Disney World Resort itself, but your airline may have other thoughts about the forecast. As June comes to an end, the usual Florida daily summer thunderstorms become quite common, and, in July, they will become a daily thing, usually in the mid-afternoon. Of course, severe weather can occur in Central Florida at anytime. When visiting, have a regular look at the weather forecasts, and be prepared. If you are driving, be extra alert.
Join Our Networks
Follow MousePlanet on Facebook:
Resort Reservations, Ticket Advice & Special Offers
Note: MousePlanet does not edit past Updates to reflect price increases; for up-to-date prices, check the most recent Walt Disney World Resort Update.
The Walt Disney World Resort website lists current offers, deals, and discounts on this page.
Summer ticket offers are available — Disney has a four day/park offer for all guests, and new 3- and 4-day offers for Florida Residents.
For All Guests — 4-Park Magic Ticket for $396 (plus tax)
The $99/day per park (plus tax) tickets are on sale. The 4-Park Magic Ticket includes one admission to each of the 4 Walt Disney World theme parks—Magic Kingdom park, Disney's Animal Kingdom theme park, EPCOT and Disney's Hollywood Studios—for a total of 4 admissions, on 4 separate days. Limit one admission per theme park, and one theme park per day, theme park reservations are not required. Ticket is valid for theme park admission from June 1 to September 29, 2023, except blockout dates from July 1 to July 4, and September 1 to September 4, 2023, but ticket expires within 7 days of first use or on September 29, 2023, whichever occurs first. For full details, visit this page of DisneyWorld.com.

For Florida Residents — 4-Day Disney Summer Magic Ticket for $229/3-Day for $209 (plus tax)
The $58/day per park (plus tax) four day or $69.67/day per park (plus tax) three day tickets are on sale as of today. Ticket are valid starting today and through September 29, 2023, subject to these blockout dates: July 1 to July 4, 2023, and September 1 to September 4, 2023. These tickets require theme park reservations for one theme park per day, but they do not need to be used on consecutive days, so long as they are used by September 29, 2023. For full details, including add-on options, visit this page of DisneyWorld.com.
For Florida Residents — 2-for-1 Water Park Ticket Offer
Florida Residents can enjoy Disney's Typhoon Lagoon Water Park with a 2-Day Water Park Ticket for the price of a 1-Day Water Park Ticket: $69 plus tax, valid now through June 30, 2023. Disney's Blizzard Beach Water Park is currently closed.
Discounted hotels stays are available on most nights through July 10, 2023, of 10% to 25% depending on Disney Resort hotel selected for stays between 1 and 14 nights. Details and availability are available on this page of DisneyWorld.com. There are additional offers for Passholders (up to 35%), Florida Residents (up to 30%), and everyone else (up to 25%) now posted through September 28, 2023. Scroll through the full list on this page of DisneyWorld.com.
The official Disney Springs Resort Area Hotels have a bunch of special offers available with weekday rates starting at $120/night (plus tax). These "on-property" resorts enjoy many of the same perks (though not all of them) as the Disney owned-and-operated resort hotels, and offer complimentary transportation to and from the parks. For more information and rates, visit: disneyspringshotels.com. The family owned-and-operated Drury Plaza Hotel Orlando is now officially open in this category, and, as it reaches its targeted completion this Spring, it will feature 604 rooms including 78 two-room suites, in-room amenities including 55" smart flat screen televisions, mini refrigerators, microwaves, alarm clocks with Bluetooth and charging stations, executive work spaces, and in-room safes. The Drury Plaza Hotel Orlando is within walking distance to Disney Springs and will also offer 17,000-plus square feet of meeting and event space for up to 250 people.
MousePlanet's travel partner Get Away Today is available to help you book rooms and packages. When you book a Walt Disney World Resort Package with Get Away Today with a minimum 3-night stay at a Disney Resort Hotel plus tickets, you receive its complimentary concierge service which includes:
Free Price Monitoring – if a special comes out after you book, we'll automatically apply it!
Dining Reservation Assistance – we wake up early and snag those hard to get dining reservations so you don't have to.
The GAT expert team is available to you! Contact them any time for extra assistance with your vacation planning; transportation, theme park recommendations, etc.
You can get a free Walt Disney World Resort vacation quote by calling 855-GET-AWAY (and tell them MousePlanet sent you) or, you can find sample prices and submit a free quote request here.
Looking to go beyond Walt Disney World Resort when visiting Central Florida? Check out Get Away Today's Universal Orlando Resort ticket offers too.
Only purchase Disney theme park tickets directly from Disney, an authorized seller, or a travel agency like MousePlanet travel partner Get Away Today! As always, we remind our readers that Walt Disney World Resort theme park tickets are rarely offered at deep discounts unless you are a resident of Florida or eligible for U.S. Military Personnel benefits. Historically, non-Florida residents tend to benefit the most by purchasing tickets in advance (and, of course, being mindful of the rules relevant to those tickets). Don't get scammed! Never buy tickets from an unofficial or secondary outlet, such as through eBay or Craigslist. Never rent or purchase tickets from people approaching you outside Disney property stating they have remaining days or leftover tickets. This practice is against the terms of use for Walt Disney World Theme Park admissions, and may result in denial of entry. There is no way to determine if these tickets are valid until you try to use them to enter the parks.
A Further Word From Our Sponsor (For full offer details and disclaimers, visit GetAwayToday.com)
We are so looking forward to summer travel at Walt Disney World Resort this year. Summer brings longer park hours, nightly fireworks, exciting entertainment and a NEW special offer!
Walt Disney World Resort has released a 4-Day/4-Park ticket that allows guests to visit each theme park once this summer at an amazing price - roughly $150+ LESS than a regular 4-Day Base Ticket! We're thrilled to let you know that we are selling that special ticket offer at an even lower price than Disney. No theme park reservations are required for these tickets, but there are two sets of blackout dates around the 4th of July and Labor Day.
Get a day at each Walt Disney World Resort Park for even less with huge savings on a 4-Park Magic Ticket from Get Away Today! June 1 - September 29, you can spend a day at Magic Kingdom, Disney's Animal Kingdom, EPCOT and Disney's Hollywood Studios and save big! No theme park reservations required; blackout dates of July 1-4 and September 1-4, 2023 apply. Save even more when you book your 4-Park Magic Ticket with Get Away Today. Buy your tickets now or call the travel experts at Get Away Today at 855-GET-AWAY (and tell them that MousePlanet sent you).
For those guests who want a more leisurely vacation, you will have more time to experience the Walt Disney World Resort with our 2 Days FREE Walt Disney World tickets! Get a full week of theme park admission for the price of a five day ticket. You can find those tickets here.
There are SO many reasons to visit Walt Disney World Resort this summer, including the return of Happily Ever After, a fan-favorite firework show and nighttime spectacular and the new TRON/Lightcycle at Magic Kingdom. The EPCOT International Flower & Garden Festival runs now until July 5th. You can check out Get Away Today's favorite tips for enjoying the EPCOT International Flower & Garden Festival, and, remember that the Food and Wine Festival kicks off July 27. Disney's Animal Kingdom is celebrating welcoming guests for 25 years, and Disney's Hollywood Studios is home to Fantasmic!, making it the perfect place for summer nights.
&nbsp