Walt Disney World Resort Update for July 18, 2023
by
Alan S. Dalinka
, staff writer
Walt Disney World Resort Update for July 18, 2023
You can view a larger version of the individual photos included in the Update by clicking on the photo; the photo will open in a separate tab without a caption (or, for Disney Parks Blog photos, the article cited will open). For Instagram, Facebook or Twitter posts embedded in the Update, you can click them and view images or videos on the respective sites too.
Writer's Note, News & Views
Since we were last together in the Update last week, the Board of Directors of The Walt Disney Company announced that it had extended the contract of CEO Bob Iger by two years, which brings his term to the end of 2026. As you may recall, when he was brought back to the company out of retirement this past fall to replace his successor Bob Chapek, his contract was set at two years ending in 2024, and he was tasked with not only getting the company back on track but with succession planning for the future of the company.
For those of us who regularly observe the company, it wasn't particularly surprising that the original two-year term wasn't considered long enough to deal with the company's many financial and brand issues. Indeed, getting the company back on track has been further complicated in the months since Bob Iger retook the helm: the State of Florida acted against the company by legislating away the Reedy Creek Improvement District, and even before the contract extension, the Writers Guild of America went out on strike against the television and film industry, including Disney. This past week, the actors union (SAG-AFTRA) also went out on strike against the industry. The distance on the issues between the unions and the industry seem rather large, and while both sides cannot afford a long idle period, especially following the idle periods during the pandemic, a quick resolution does not seem evident.
Focusing back on just Disney, since Bob Iger returned to the company, the business reorganization efforts he has led has included a large number of layoffs and other cost cutting measures. As I also reported previously, Disney canceled the previously announced business campus development at Lake Nona, Florida, which was to become the new home to the Disney Parks, Experiences, and Products Division.
Disney has said that the company continues to actively review candidates to fill the company's leadership role for its future. Who those candidates are has not been publicly disclosed. But I have to believe that Disney makes statements like that to try to keep Wall Street and the investment community confident in the company's future. So, while I don't know for certain whether the timing of the announcement of the Board's extension of Bob Iger's contract was done to get ahead of the the actors union's labor action, it would seem to be a logical signal to Wall Street.
All of this is to say that, as Disney this week shared how the company plans to add Walt Disney World Resort into the Disney100 celebration for its 100th anniversary, it does so in rocky times. I continue to think that won't see much in the way of announcements of capital projects for the Florida resort in the immediate future. The reasons for that opinion continue to increase in number, with the studio's output now on indefinite hold because of the labor action.
So, while I prefer to present news rather than comment on it in here (beyond providing advice that my experiences can inform), I have to say that the offerings coming to EPCOT for Disney100 do not even hit tepid on my thermometer, in my opinion. They certainly conform to my expectations about capital expenditures in the Florida resort. I hope I'm wrong about that. But for now, it's disappointing that the real world's financial and political issues look like they're going to keep the Disney from sharing and exploring bigger dreams for Walt Disney World Resort with us for awhile.
I can only hope that those that "make the magic" keep working on the little details that make the parks and resorts special. Please remember to be nice to cast members and your fellow guests. Yes, it continues to be very hot and muggy around Central Florida, and it has rained quite a bit more often than I've come to expect.
A Few More Disney100 Celebration Details For Walt Disney World Resort
As you may know by now, The Walt Disney Company is celebrating its 100th anniversary. The focus of the public part of that celebration is out at Disneyland Resort, and our MousePlanet Disneyland Resort Updates have shared those details. It got underway while Walt Disney World Resort was still celebrating its own 50th anniversary, and that 18-month celebration ended as March came to an end.
In the months since the company-wide celebration got underway, I've shared some photos of Disney100 merchandise and photo opportunities that have been popping up around Walt Disney World Resort in the Updates. Disney previously shared that EPCOT would be the center of the Florida celebration, and this week, Disney Parks Blog shared a few more of the details.

Though this photo was taken this past week, the Disney100 photo spots have been in the parks and Disney Springs since not long after the Walt Disney World 50th anniversary celebration concluded this spring. Photo by Alan S. Dalinka.
Disney is tying in the wrap-up of the multi-year transformation of EPCOT with its Disney100 celebration at Walt Disney World, and it will officially begin on September 22 and run until December 31, 2023. Disney100 backdrops are already located at all four theme parks and Disney Springs, and there are Disney100 Magic Shots and other PhotoPass offerings across the Resort. At EPCOT, the Disney100 celebration will add a new platinum Mickey Mouse sculpture providing a photo op with Spaceship Earth in the background.

A new platinum Mickey Mouse statue will stand in front of the Disney100 photo spot at EPCOT. At night, Spaceship Earth will include special lighting for the Disney100 celebration, likely in rotation with the other "Beacons" on Magic. Image courtesy Disney Parks Blog.
EPCOT will also be adding an all-new mural in World Celebration (formerly known as the center of Future World) which will feature 100 Disney characters. World Celebration will also be decorated with Disney100 platinum banners and décor. Mickey Mouse and Minnie Mouse will appear in their celebratory platinum attire in the Imagination! pavilion. At night, Spaceship Earth's lighting will feature special colors and lights accompanied by the Disney100 anthem, a unique rendition of "When You Wish Upon a Star."

Mickey and Minnie will appear in their Disney100 costumes at Imagination! pavilion during the celebration (or, at least, until their new meet and greet is ready over at CommuniCore Hall, the new festival center under construction in World Celebration. Image courtesy Disney Parks Blog.
As mentioned last week, some of the EPCOT International Food & Wine Festival World Marketplaces (kiosks) that are scheduled to open in the fall will be tied in to the Disney100 celebration, and there will also be limited-time food and beverage locations at the EPCOT International Festival of the Holidays this winter.
Disney also announced that EPCOT will be the exclusive place to purchase a new purple metallic Mickey Balloon Premium Popcorn Bucket during the Disney100 celebration. Disney has not yet announced whether it will be available at a single or multiple locations; given recent specialty items like this, it likely will be available somewhere by mobile order, but stay tuned for details.

Guests will be able to purchase a purple metallic Mickey Balloon Premium Popcorn Bucket exclusively at EPCOT during the Disney100 celebration (while supplies last). Image courtesy Disney Parks Blog.
Though Disney previously announced that the new nighttime spectacular being developed for EPCOT to permanently replace Harmonious (and the temporary EPCOT Forever) shows would be part of, or at least, tied in with the Disney100 celebration, so far Disney hasn't provided any additional information about the new show. Construction in World Showcase Lagoon likely related to the new show is well underway, with the hardware used for presentations of Harmonious having been removed this spring and earlier this summer.

Construction in World Showcase Lagoon is well-underway, likely for the next, as yet, "permanent" but unnamed nighttime spectacular which Disney previously said would be tied to the Disney100 celebration. Photo by Alan S. Dalinka.
Views of EPCOT Between Festivals
It is currently one of those very rare times between festivals at EPCOT, with some remnants of the EPCOT International Flower & Garden Festival (which concluded on July 5) still evident around the park, and some of the preparations underway for the July 27 start of the EPCOT International Food & Wine Festival in place.

At least as of last week, the flower beds of the Flower & Garden Festival were still blooming. Expect lawns to return to these gardens very soon. Photo by Alan S. Dalinka.
Photos by Alan S. Dalinka.

Some of the EPCOT International Food & Wine Festival World Marketplaces (kiosks) are in place, with "coming soon" signs, like the Ireland Marketplace near the United Kingdom pavilion. Photo by Alan S. Dalinka.
Mears Connect and Sunshine Flyer To Merge
Beginning August 1, 2023, "Mears Connect Driven by Sunshine" will provide transportation between Orlando International Airport and Walt Disney World Resort, as a result of a merger between the two previous competing services, Mears Connect and Sunshine Flyer. According to the MearsConnect website:
Mears Connect guests will not be impacted and reservations will remain the same. Sunshine Flyer guests will receive updated travel information only if their reservation date is impacted.
Mears Transportation had previously been the service provider that Disney contracted with to provide the Disney Magical Express bus service that was complimentary to Walt Disney World Guests. Disney ended that service early in 2022, and Mears began operating its Mears Connect in its wake and Sunshine Flyer entered the market as a competitor.

Sunshine Flyer entered the Central Florida market as a competitor to Mears Transportation after Disney ended the Magical Express complimentary transportation service between Orlando International Airport and Walt Disney World Resort hotels. Photo by Alan S. Dalinka.
While the press reports include the usual sort of statements from executives about how this merger will allow the companies to serve guests better, it should be noted that Mears is the dominant transportation provider in the region. Not only was it Disney's former contract partner for Magical Express (and remains so for Disney Cruise Line), it also continuously operated its own branded shuttle busses and vans, a taxi service, a limo service, and it runs a fleet of Uber-dispatched cars as well. Disney's Minnie Van service (connected by Lyft) offered a Disney-run transportation option between the airport and the resort before the global pandemic, but it's web page no longer mentions that option, though the service is once again available for points within Walt Disney World Resort.
Disney Dreamers Academy 2024 Applications Now Open
Back in March, I was invited to provide media coverage of the 16th edition of Disney Dreamers Academy at Walt Disney World Resort and reported on it in the Update for March 28, 2023. The four-day, transformational, mentoring program is designed to broaden career awareness and create opportunities for Black high school students and teens from underrepresented communities across the U.S.

The 2023 Disney Dreamers had the opportunity to follow Drum Major Mickey Mouse along the Magic Kingdom parade route through the hub and down Main Street U.S.A. File photo by Alan S. Dalinka.
Earlier this month, Disney announced the opening of applications and nominations for the 2024 Disney Dreamers Academy. Students looking to achieve their dreams can apply and, for the first time this year, be nominated for the program at DisneyDreamersAcademy.com. The application process is open through October. A panel of judges will select 100 students from the thousands of nationwide applicants to participate in the once-in-a-lifetime mentoring program designed to assist young people in identifying and pursuing their dreams. The selected students, along with a parent or guardian, will receive an all-expense-paid trip to Walt Disney World to participate in the program, including career-oriented workshops, leadership seminars and presentations by celebrity guests, community leaders, educators and Disney executives.
"We're seeking the next generation of big dreamers to bring to Walt Disney World for the 17th year of this life-changing program," said Disney Signature Experiences vice president Tracey D. Powell, who is also the program's executive champion. "Any teen in your life who aspires to achieve their goals should apply. You never know where it could take them!"
In her role as Disney Dreamers Academy Ambassador, actor and singer Halle Bailey, who plays the lead role as Ariel in the live-action remake of Disney's The Little Mermaid, was part of many special moments during this year's event, sharing her own personal struggles and lessons on her path to success. She also personally hosted two aspiring filmmakers from the class at the world premiere of The Little Mermaid.
Over the years, Disney Dreamers Academy has inspired more than 1,500 students from across the country. Each year, graduates have gone on to become doctors, engineers, performing artists, entrepreneurs, Disney Cast Members and more, and some have transitioned into mentors to the Disney Dreamers who followed them.
For more information, including the application and nomination details, visit DisneyDreamersAcademy.com.
This & That & Reminders…
…National DOLE Whip Day is coming up on July 20 (the third Thursday of July, as "officially designated" by Chase's Calendar of Events), and, Disney Parks will celebrate it from July 20 to 23, 2023. Believe it or not, it's the 40th anniversary of DOLE Whip, and (as you can believe) Disney Parks Blog has published a Foodie Guide highlighting Walt Disney World Resort locations where you can always find varieties of Dole Whip as well as places that will be serving up limited time specialties. The Foodie Guide also includes locations at Disneyland Resort, Hong Kong Disney Resort, Disneyland Paris Resort, Disney Cruise Line, and Aulani, a Disney Resort & Spa in Ko Olina, Hawaii. This week, Disney also shared the recipe for the "inspired by DOLE Whip" cupcake that will be available for a limited time at Disney's Contemporary Resort:
…Jaleo Disney Springs has extended Flamenco Fridays throughout July, featuring live performances from talented flamenco dancers during dinner service. Beginning at 7:30 p.m. every Friday, guests can enjoy Spanish tapas and shareable pans of paella, while watching the art form unique to the Southern regions of Spain. Reservations are recommended.
…UPDATED REMINDER: My Disney Experience shows The Haunted Mansion at Magic Kingdom closed for "routine refurbishment" from August 7–9. While the new Disney Haunted Mansion film opens in U.S. theaters on July 28, and the first Mickey's Not-So-Scary Halloween Party runs the night of August 11, the rumored near-term installation of the "Hatbox Ghost" in the Mansion turned out to be premature. While back at Expo 2022 Disney announced it is coming to the attraction at Magic Kingdom (and Disneyland has had a version for quite some years), Orlando Sentinel's Dewayne Bevil reported this week that Disney says not yet.
…REMINDER: From July 17–30, Passholders can get one set of three previously distributed magnets at Chester & Hester's Dinosaur Treasures at Disney's Animal Kingdom from park open until close (Pass and photo I.D. required, and it does not seem to be relevant whether the Passholder had previously received any of the three previously distributed magnets in their prior distributions).
The Spike the Bee sipper that previously was available at the EPCOT International Flower & Garden Festival is now available at Disney's Animal Kingdom with beverages at Harambe Market (Watermelon Lemonade); Terra Treats (The Loggerhead); The Feeding Ground (Coca-Cola Fountain Beverages); Restaurantosaurus (Wildberry Lemonade); and Trilo-Bites (Coca-Cola Fountain Beverages). Passholders showing proof of a valid pass in their My Disney Experience app and a photo I.D.) can get a discount off the sipper (but not the beverages) through July 30.
Through August 13, 2023, Passholders can get 20% off regularly priced food and non-alcoholic beverages at D-Luxe Burger at Disney Springs for themselves and up to 3 guests with proof of a valid pass in their My Disney Experience app and a photo I.D.
…REMINDER: The Edison at Disney Springs continues its July Mixology Sunset Dinner Series with an elevated three-course menu and craft cocktail pairings on July 20 & 27, 5:30 p.m. & 8 p.m. Information and tickets are available at TheEdisonFLA.com.
…REMINDER: Disney Vacation Club Moonlight Magic details and registration for the remaining complimentary events at Walt Disney World Resort are posted on this page of the DVC website. Early registration occurs once for each park hosting a Moonlight Magic Event, where DVC members with Disney Resort hotel reservations falling on the day of an event may register for the event; General registration takes place on specified dates for each event. The remaining complimentary but registration required after-hours events in the parks for members and their guests are:
Disney's Animal Kingdom – August 2. General registration is July 19 (early registration has closed).
Disney's Typhoon Lagoon Water Park – August 23. General registration is August 9 (early registration has closed).
Disney's Hollywood Studios – September 13. General registration is August 31 (early registration has closed).
For "early registration," an eligible DVC member must have resort reservations at a Disney-owned-and-operated hotel at Walt Disney World Resort in Florida or at Disney's Vero Beach Resort—with party size modifications finalized prior to the respective deadlines. Eligible DVC members are those who are eligible for member extras. Any eligible DVC member (regardless of hotel reservation status) may attempt to register for an event during "general registration" pending availability. Members can register up to a party size of five (including the member) or, when registering during the early registration period, up to the number of guests on the resort reservation finalized by the applicable deadline. Modifications to a hotel reservation's party size after the deadline will not change the party size for the event. Children under age 3 do not need to be registered for the event.
For all of these DVC events, "eligible" member generally means that the member bought their points directly from Disney rather than a third-party resale.
…REMINDER: The Walt Disney World Swan and Dolphin Food & Wine Classic has announced the line-up of interactive food and beverage seminars taking place during this year's event, Friday, November 10 and Saturday, November 11, 2023. During the educational seminars, guests can expand their knowledge of wine, beer, spirits, or pasta-making through hands-on learning experiences led by the resort's award-winning food and beverage team. Updates for this year's seminars include Craft Cocktails offered both Friday and Saturday and Wine Blending adding a bottling component in which guests will leave with their own bottled custom Meritage blend to take home. The 2023 seminar line-up includes:
Craft Cocktails – Friday and Saturday
Wine Blending – Friday and Saturday
Pasta Making – Friday
It's Better to Wine in Italian (Italian Wines) – Friday
Base to Bubbles (Champagne) – Friday
Beer, Please! – Saturday
The seminars will take place prior to the outdoor festival. It's Better to Wine in Italian and Beer, Please! seminar tickets are $75 per person, excluding tax. Base to Bubbles, Wine Blending, and Craft Cocktails seminars are $85 per person, excluding tax. Pasta Making seminar tickets are $110 per person, excluding tax. All seminars require separate tickets and space is limited. Specific dates and times of each seminar are available at foodandwineclassic.com. The Swan and Dolphin Food & Wine Classic offers guests unlimited tastings at creatively spaced, outdoor stations featuring culinary and beverage selections from the hotel's award-winning restaurants amidst a festive backdrop of live entertainment on the hotel's scenic causeway. The event runs from 5:30 to 9 p.m. on November 10–11, 2023. For more information, visit swandolphinfoodandwineclassic.com.
Ahead of the Food and Wine Classic, the Walt Disney World Swan and Dolphin Hotels are now offering Walt Disney World Annual Passholders and Florida residents the opportunity to save up to 30 percent off regular rates on hotel stays this summer. Visit swandolphin.com/offers/ for more information or to book.
…REMINDER: Give Kids the World Village, the non-profit resort that provides week long, no cost Central Florida vacations to critically ill children and their families, will host "An Evening with Pat Sajak," the television personality (and regular Candlelight Processional narrator) who just announced his retirement at the conclusion of his 41st season as host of TV's "Wheel of Fortune." The event will be Saturday, August 12, 5:30 to 9 p.m., at Give Kids The World Village 210 South Bass Road Kissimmee, FL 34746. Parking is free. Tickets start at $34.99 (with a VIP experience also available) at this EventBrite page. Ticket proceeds benefit Give Kids The World Village.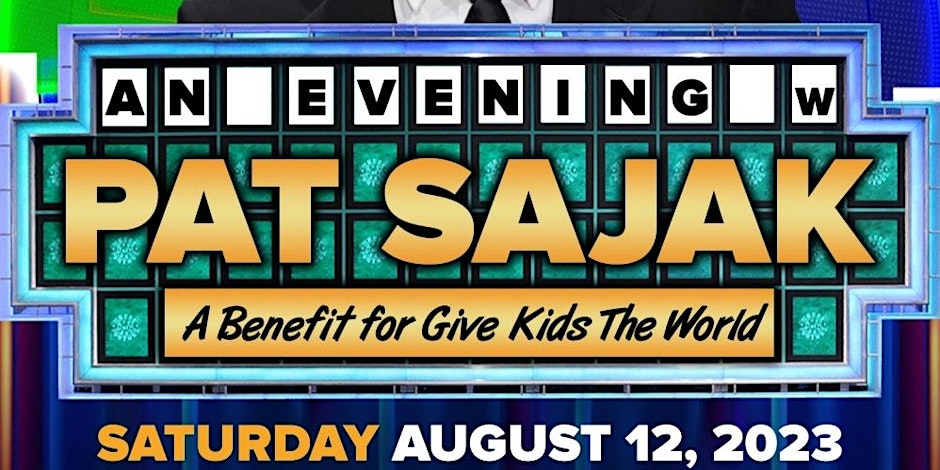 The Village's speaker series continues on August 26 with an evening with Linda Larkin and Jonathan Freeman, the voices of Princess Jasmine and Jafar from the classic Disney animated film Aladdin. Tickets start at $59.99 (with a VIP experience also available) and are available at this EventBrite page.
…For those looking for updates on Disney Cruise Line's next new ship, Disney Treasure, which is currently under construction in the Meyer Werft shipyard in Germany where the last three Disney ships were built, Disney Parks Blog has launched a Ship's Log. Construction began earlier this year, and the ship is expected to set sail in 2024.
…Speaking of Disney Cruise Line, the DisneyBand+, the waterproof wristband (styled much like the MagicBand+), which is now available for purchase by those sailing on Disney Wish will soon be available for those sailing on Disney Fantasy. DisneyBand+ can be used for hands-free convenience during guest's port arrival experiences at U.S. ports, throughout the ship, and on shore at Disney Castaway Cay. Like MagicBand+, DisneyBand+ "brings onboard magic to life with special interactions around the ship." In fact, guests that have a Walt Disney World Resort or Disneyland Resort MagicBand+ can use it as a DisneyBand+ during Disney cruises on select ships and itineraries (and, indeed, as I learned on my recent Aulani vacation, it can now be used there as well, including as a room key at that Disney Resort in Ko Olina, Hawaii).
…Finally, in case you missed it on our Instagram and Facebook social media this week, Disney and The Home Depot invited me to a virtual preview of home decor for Halloween featuring Disney characters available exclusively at The Home Depot soon.
The Usual Writer's Note (Updated)
Face coverings remain optional across all of Walt Disney World Resort. Remember to check this page of DisneyWorld.com for the latest requirements. It remains unlikely that the State of Florida will impose new requirements. As always, be sure to pay attention to updates to the policies around Walt Disney World Resort.
As has been true throughout the past several years, if you're traveling to or from overseas, be sure to check with the places you're visiting and traveling from or through for the latest rules. Though most requirements have been relaxed or removed, it remains important to check on and abide by the most up-to-date COVID-19 testing and vaccine requirements for entering the United States whether as a citizen, permanent resident, or visitor (and be aware of who needs a visa).
Disney Park Pass reservations continue to be required for admission to Walt Disney World theme parks when purchasing undated tickets or an annual pass (in addition to a valid ticket). If your tickets have the Park Hopper option, Park Hopping only becomes available after 2 p.m. daily, and only after you have first visited the park for which you have made a reservation that day. There have been instances where Magic Kingdom has reached capacity and paused admission of Park Hoppers, as Disney reserves the right to do so at all the parks. Passholders are no longer required to make reservations to visit parks after 2 p.m. except for Magic Kingdom on Saturday and Sunday.
Speaking of Annual Passes, sales of new ones resumed back in April. All Passholders may continue to purchase renewals in all tiers, and, now may upgrade pass type before renewal by paying the difference in price. As Disney reserves the right to limit quantities of passes available, sales may pause at any time, so be sure to check https://disneyworld.disney.go.com/passes/ for the latest availability. Logging in to the site with existing MyDisneyExperience credentials can direct you to purchasing opportunities for Florida Residents and Disney Vacation Club Members if those details are already tied to your account.
Note Disney now has a "Courtesy" section included in its "know before you go" webpage on DisneyWorld.com which states:
Be the magic you want to see in the world. You must always remember to treat others with respect, kindness and compassion. Those who can't live up to this simple wish may be asked to leave Walt Disney World Resort.
It is Tropical Storm season for those of us near the Atlantic Ocean. Keep an eye on the weather alerts for the region you plan to visit, especially if that involves flying into Central Florida. Disney typically only closes the parks when a significant storm is tracking toward Walt Disney World Resort itself, but your airline may have other thoughts about the forecast. The usual Florida daily summer thunderstorms are now quite common, usually in the mid-afternoon, but they do not adhere to any fixed schedule. Severe weather can occur in Central Florida at anytime, even when the forecast says 0% chance of rain (and there are occasional times when there is a forecast 100% chance of rain and it does not rain in some places). When visiting, have a regular look at the weather forecasts, and be prepared for heat, humidity, and rain; have a plan if something severe pops up. If you are driving, be extra alert. I've said it before, I'll say it again: it's very hot and muggy around here this summer!
Join Our Networks
Follow MousePlanet on Facebook:
Resort Reservations, Ticket Advice & Special Offers
Note: MousePlanet does not edit past Updates to reflect price increases; for up-to-date prices, check the most recent Walt Disney World Resort Update.
The Walt Disney World Resort website lists current offers, deals, and discounts on this page.
Summer ticket offers are available — Disney has a four day/park offer for all guests, and new 3- and 4-day offers for Florida Residents.
For All Guests — 4-Park Magic Ticket for $396 (plus tax)
The $99/day per park (plus tax) tickets are on sale. The 4-Park Magic Ticket includes one admission to each of the 4 Walt Disney World theme parks—Magic Kingdom park, Disney's Animal Kingdom theme park, EPCOT and Disney's Hollywood Studios—for a total of 4 admissions, on 4 separate days. Limit one admission per theme park, and one theme park per day, theme park reservations are not required. Ticket is valid for theme park admission until September 29, 2023, except blockout dates from September 1 to September 4, 2023, but the ticket expires within 7 days of first use or on September 29, 2023, whichever occurs first. For full details, visit this page of DisneyWorld.com.

For Florida Residents — 4-Day Disney Summer Magic Ticket for $229/3-Day for $209 (plus tax)
The $58/day per park (plus tax) four day or $69.67/day per park (plus tax) three day tickets are on sale. Tickets are valid through September 29, 2023, subject to blockout dates: September 1 to September 4, 2023. These tickets require theme park reservations for one theme park per day, but they do not need to be used on consecutive days, so long as they are used by September 29, 2023. For full details, including add-on options, visit this page of DisneyWorld.com.
MousePlanet's travel partner Get Away Today is available to help you book rooms and packages. When you book a Walt Disney World Resort Package with Get Away Today with a minimum 3-night stay at a Disney Resort Hotel plus tickets, you receive its complimentary concierge service which includes:
Free Price Monitoring – if a special comes out after you book, we'll automatically apply it!
Dining Reservation Assistance – we wake up early and snag those hard to get dining reservations so you don't have to.
The GAT expert team is available to you! Contact them any time for extra assistance with your vacation planning; transportation, theme park recommendations, etc.
You can get a free Walt Disney World Resort vacation quote by calling 855-GET-AWAY (and tell them MousePlanet sent you) or, you can find sample prices and submit a free quote request here.
Looking to go beyond Walt Disney World Resort when visiting Central Florida? Check out Get Away Today's Universal Orlando Resort ticket offers too.
Only purchase Disney theme park tickets directly from Disney, an authorized seller, or a travel agency like MousePlanet travel partner Get Away Today! As always, we remind our readers that Walt Disney World Resort theme park tickets are rarely offered at deep discounts unless you are a resident of Florida or eligible for U.S. Military Personnel benefits. Historically, non-Florida residents tend to benefit the most by purchasing tickets in advance (and, of course, being mindful of the rules relevant to those tickets). Don't get scammed! Never buy tickets from an unofficial or secondary outlet, such as through eBay or Craigslist. Never rent or purchase tickets from people approaching you outside Disney property stating they have remaining days or leftover tickets. This practice is against the terms of use for Walt Disney World Theme Park admissions, and may result in denial of entry. There is no way to determine if these tickets are valid until you try to use them to enter the parks.
A Further Word From Our Sponsor (For full offer details and disclaimers, visit GetAwayToday.com)
We are so looking forward to summer travel at Walt Disney World Resort this year. Summer brings longer park hours, nightly fireworks, exciting entertainment and a NEW special offer!
Walt Disney World Resort has released a 4-Day/4-Park ticket that allows guests to visit each theme park once this summer at an amazing price - roughly $150+ LESS than a regular 4-Day Base Ticket! We're thrilled to let you know that we are selling that special ticket offer at an even lower price than Disney. No theme park reservations are required for these tickets, but there are two sets of blackout dates around the 4th of July and Labor Day.
Get a day at each Walt Disney World Resort Park for even less with huge savings on a 4-Park Magic Ticket from Get Away Today! Through September 29, you can spend a day at Magic Kingdom, Disney's Animal Kingdom, EPCOT and Disney's Hollywood Studios and save big! No theme park reservations required; blackout dates September 1-4, 2023 apply. Save even more when you book your 4-Park Magic Ticket with Get Away Today. Buy your tickets now or call the travel experts at Get Away Today at 855-GET-AWAY (and tell them that MousePlanet sent you).
For those guests who want a more leisurely vacation, you will have more time to experience the Walt Disney World Resort with our 2 Days FREE Walt Disney World tickets! Get a full week of theme park admission for the price of a five day ticket. You can find those tickets here.
There are SO many reasons to visit Walt Disney World Resort this summer, including the return of Happily Ever After, a fan-favorite firework show and nighttime spectacular and the new TRON/Lightcycle at Magic Kingdom. The EPCOT International Flower & Garden Festival runs now until July 5th. You can check out Get Away Today's favorite tips for enjoying the EPCOT International Flower & Garden Festival, and, remember that the Food and Wine Festival kicks off July 27. Disney's Animal Kingdom is celebrating welcoming guests for 25 years, and Disney's Hollywood Studios is home to Fantasmic!, making it the perfect place for summer nights.
&nbsp