Walt Disney World Resort Update for August 1, 2023
by
Alan S. Dalinka
, staff writer
Walt Disney World Resort Update for August 1, 2023
You can view a larger version of the individual photos included in the Update by clicking on the photo; the photo will open in a separate tab without a caption (or, for Disney Parks Blog photos, the article cited will open). For Instagram, Facebook or Twitter posts embedded in the Update, you can click them and view images or videos on the respective sites too.
Writer's Note, News & Views
I have to start this week's Update with the sad news that we shared on social media this past week—noted Disney historian and long-time MousePlanet contributor Jim Korkis has passed away at age 72. MousePlanet's Chief Operating Officer Mark Goldhaber had been in touch with him, had set up the GoFundMe to assist with his medical expenses, and shared the sad news online. Mark will fill the spot of the usual Wednesday Korkis Corner tomorrow here on MousePlanet.com with a tribute including Jim's final message to us all.
As we all also learned yesterday, actor Paul Reubens passed away this past weekend. While best known for his character Pee Wee Herman, he provided voice talent for the Disney film Tim Burton's The Nightmare Before Christmas, and, of course, he also did work we all know in Disney Parks for the original version of Star Tours and, later, Oga's Cantina. Disney paid tribute to him yesterday.
I send my condolences to those that mourn those that passed.
2023 EPCOT International Food & Wine Festival
The 2023 EPCOT International Food & Wine Festival is now underway through November 18. Featuring "authentic global cuisine and beverages," EPCOT now offers Global Marketplaces with different themes throughout the park from 11 a.m. until park closing, daily. Several of the permanent food and beverage locations around the park also offer specialty items for the Festival.
Visit TasteEPCOT.com to see a full list of the menu items at the Festival, and be sure to pick up a free Festival Passport that also includes all the menus as well as a guide to other Festival offerings. Be aware, of course, that offerings can change: the Eat to the Beat Concert Series, for example, has had last-minute changes in the past, and we already know the Bacon Brothers will not be appearing as noted last week. The Passport is where guests collect stamps representing food purchases in Emile's Fromage Montage: collect five stamps for purchasing items from the choices in the list during the run of the Festival, and then visit Shimmering Sips for the "completer surprise" item.

The 2023 EPCOT International Food & Wine Festival is underway through November 18. Photo by Alan S. Dalinka.
There is no Festival Center for this edition of the Festival. Like other recent EPCOT Festivals, World Showplace is not being used for the Food & Wine Festival. CommuniCore Hall remains under construction in the World Celebration area of the park, and it will become the new Festival Center at some point for future Festivals.
Odyssey is again a Global Marketplace featuring chicken wings and craft brews. Named the Brew-Wing Lab, this year it is presented "in partnership with" Muppet Labs. It is the first themed Global Marketplace where EPCOT worked with one Disney's intellectual properties from outside the parks to develop the theming, and new video featuring Muppet Labs' Dr. Bunsen Honeydew and his assistant Beaker was created specifically for the Festival. The Odyssey's theming includes new Muppet Labs posters and other details as well, and the Brew-Wing Lab's menu also ties in with the overall theme.
Photos by Alan S. Dalinka.
Since the Muppets' involvement was first teased by Disney a few weeks ago, many had hoped that the Muppet Labs' involvement would include a return of the Muppet Mobile Lab show which had featured the characters in a live format. Unfortunately, there is no indication that the Muppet Mobile Lab will be returning. The characters appear via seven videos that play from time to time in three spots on the walls inside Odyssey. Indeed, on the first day of the Festival, Odyssey itself was so crowded, it clearly would not be feasible to add it in the space, and its former usual performance location near the exit to Spaceship Earth remains behind construction walls.
Disney hosted me at a Media preview on July 26, and invited me to return to EPCOT for the first day of the Festival on July 27.
As has been true of other recent-past Food & Wine Festivals, several of the Global Marketplaces are scheduled to open as the calendar moves forward. Hawaii and The Noodle Exchange, for example, are scheduled to open on August 15. As previously announced, four more are scheduled to open as EPCOT ramps up its Disney 100 celebration on September 22: Swirled Showcase, Char & Chop, Wine & Wedge, and Bubbles & Brine.
Photos by Alan S. Dalinka.
As with all EPCOT Festivals, there are new merchandise collections. To my eyes, there are fewer locations offering merchandise than other recent Festivals. There are a few kiosks around World Showcase, in addition to permanent locations like Creations Shop. There are three collections: a Food & Wine Festival collection, Mickey Mouse & Minnie Mouse Picnic Collection; and Disney's Encanto Collection. Remy's Ratatouille Hide & Squeak scavenger hunt is back (purchase the map, find Remy, return the completed map, and get a prize), and a limited time Halloween scavenger hunt, Pluto's Pumpkin Pursuit is coming soon (though not as soon as Mickey's Not-So-Scary Halloween Party at Magic Kingdom).
Photos by Alan S. Dalinka.
Finally, since we're talking about EPCOT, Disney also shared that the FriendShip Boats, which transport guests from EPCOT to Disney's Hollywood Studios with stops at Disney Resort hotels along the way, are debuting a brand-new color scheme. Each boat will have its own, unique colors, and all the newly painted vessels will feature a dark blue bottom.

The FriendShip Boats on World Showcase Lagoon and traveling between EPCOT and Disney's Hollywood Studios have a new paint scheme. Photo courtesy Disney Parks.
This & That & Reminders…
…Today, August 1, at noon Eastern, applications open for the 2024 planDisney panel. This is a Disney-selected panel of guests who are knowledgable enthusiasts that wish to help others plan their Disney vacations; it used to be referred to as the Disney Mom's Panel. As Disney Parks Blog describes it:
planDisney is a diverse group of passionate and knowledgeable guests who share their insights on planDisney.com to help other guests maximize their Disney vacations. Panelists are chosen for their ability to efficiently answer guests' questions in one of four specialties: Walt Disney World Resort, Disneyland Resort, Disney Cruise Line, or Disney Vacation Club. And we even have specialists that answer in four languages: English, Spanish, French and Portuguese.
Information and eligibility requirements are posted at planDisneySearch.com. Applications will be accepted up until Noon Eastern on August 7, 2023.
…Trails End at Disney's Fort Wilderness Campground & Resort has reopened as a quick service restaurant on Friday, and the nearby Crockett's Tavern has been refreshed as a lounge with expanded seating, both indoors and outside, with a view of Bay Lake. Disney Parks Blog provided an advanced look last week at the former table service and buffet venue that has been reimagined and some of the menu at the refreshed lounge. Lots of commenters on Disney Parks Blog expressed disappointment with the loss of the table service/buffet: what are your thoughts?
UPDATED REMINDER: Mickey's Not-So-Scary Halloween Party gets underway on select nights starting on August 11, so if you are planning to visit Magic Kingdom, be aware that the park will end its regular operating hours early on those nights for those without a ticket to the after-hours event. (Since last week's Update, MousePlant has been invited to Media Night at the Party.) For those planning to visit Magic Kingdom during its two and a half month Halloween celebration, Disney Parks Blog has published its Foodie Guide for the event, which includes both treats available to purchase exclusively during event nights and those available to purchase during regular park operating hours as well. Commenters have noted both on Disney Parks Blog and elsewhere on social media that the Halloween treats do not appear to include any specifically identified plant-based options this year.
…REMINDER: Disney H2O Glow After Hours events are now underway on select nights through September 2 at Disney's Typhoon Lagoon.
…UPDATED REMINDER: My Disney Experience shows The Haunted Mansion at Magic Kingdom closed for "routine refurbishment" from August 7–9. The new Disney Haunted Mansion film is now playing in U.S. theaters, but, as we noted last week, the rumored near-term installation of the "Hatbox Ghost" in the Mansion turned out to be premature. With the release of the movie, Disney provided a bit of additional detail about the character's addition to the attraction—it will "appear to guests as they pass the Endless Hallway," but, in the meantime, "Guests will soon see temporary barriers materialize as we await his apparition."

One of the displays in the lobby of the AMC Dine-in Theaters depicts the film's version of the mansion's endless hallway. Photo by Alan S. Dalinka.

MousePlanet was invited to attend a cast and media screening of the new film. The invited cast members in attendance were largely those who work on the attraction at Magic Kingdom and they enthusiastically greeted the film and nearly every reference to the classic attraction. As a fan of the attraction, I enjoyed the film quite a bit as well. Photo by Alan S. Dalinka.
…REMINDER: Through August 13, 2023, Passholders can get 20% off regularly priced food and non-alcoholic beverages at D-Luxe Burger at Disney Springs for themselves and up to 3 guests with proof of a valid pass in their My Disney Experience app and a photo I.D.
…NEW Disney's partner Scentsy, "The Official Home Fragrance of Walt Disney World," will soon be the presenter of a new family-friendly experience in the Storybook Circus area of Fantasyland at Magic Kingdom. So far, the experience "smells" like a version of EPCOT's many scavenger hunts since it's been described as a "search and sniff" adventure, and I, for one, hope it does not smell like a real circus.
…REMINDER: Disney Vacation Club Moonlight Magic details and registration for the remaining complimentary events at Walt Disney World Resort are posted on this page of the DVC website. Early registration occurs once for each park hosting a Moonlight Magic Event, where DVC members with Disney Resort hotel reservations falling on the day of an event may register for the event; General registration takes place on specified dates for each event. The remaining complimentary but registration required after-hours events in the parks for members and their guests are:
Disney's Typhoon Lagoon Water Park – August 23. General registration is August 9 (early registration has closed).
Disney's Hollywood Studios – September 13. General registration is August 31 (early registration has closed).
For "early registration," an eligible DVC member must have resort reservations at a Disney-owned-and-operated hotel at Walt Disney World Resort in Florida or at Disney's Vero Beach Resort—with party size modifications finalized prior to the respective deadlines. Eligible DVC members are those who are eligible for member extras. Any eligible DVC member (regardless of hotel reservation status) may attempt to register for an event during "general registration" pending availability. Members can register up to a party size of five (including the member) or, when registering during the early registration period, up to the number of guests on the resort reservation finalized by the applicable deadline. Modifications to a hotel reservation's party size after the deadline will not change the party size for the event. Children under age 3 do not need to be registered for the event.
For all of these DVC events, "eligible" member generally means that the member bought their points directly from Disney rather than a third-party resale.
…NEW Speaking of DVC members, for a limited time, eligible DVC members can save 20% on a Disney VIP Tour at Walt Disney World Resort during select dates in August & September 2023. A VIP Tour Guide with customizable experience is available for groups of up to 10 Guests. For more information about the VIP Tours, visit DisneyWorld.com/VIPTours. Booking opens August 15, 2023, and members must call (407)560-4033.
…REMINDER: The Walt Disney World Swan and Dolphin Food & Wine Classic has announced the line-up of interactive food and beverage seminars taking place during this year's event, Friday, November 10 and Saturday, November 11, 2023. During the educational seminars, guests can expand their knowledge of wine, beer, spirits, or pasta-making through hands-on learning experiences led by the resort's award-winning food and beverage team. Updates for this year's seminars include Craft Cocktails offered both Friday and Saturday and Wine Blending adding a bottling component in which guests will leave with their own bottled custom Meritage blend to take home. The 2023 seminar line-up includes:
Craft Cocktails – Friday and Saturday
Wine Blending – Friday and Saturday
Pasta Making – Friday
It's Better to Wine in Italian (Italian Wines) – Friday
Base to Bubbles (Champagne) – Friday
Beer, Please! – Saturday
The seminars will take place prior to the outdoor festival. It's Better to Wine in Italian and Beer, Please! seminar tickets are $75 per person, excluding tax. Base to Bubbles, Wine Blending, and Craft Cocktails seminars are $85 per person, excluding tax. Pasta Making seminar tickets are $110 per person, excluding tax. All seminars require separate tickets and space is limited. Specific dates and times of each seminar are available at foodandwineclassic.com. The Swan and Dolphin Food & Wine Classic offers guests unlimited tastings at creatively spaced, outdoor stations featuring culinary and beverage selections from the hotel's award-winning restaurants amidst a festive backdrop of live entertainment on the hotel's scenic causeway. The event runs from 5:30 to 9 p.m. on November 10–11, 2023. For more information, visit swandolphinfoodandwineclassic.com.
Ahead of the Food and Wine Classic, the Walt Disney World Swan and Dolphin Hotels are now offering Walt Disney World Annual Passholders and Florida residents the opportunity to save up to 30 percent off regular rates on hotel stays this summer. Visit swandolphin.com/offers/ for more information or to book.
…REMINDER: Give Kids the World Village, the non-profit resort that provides week long, no cost Central Florida vacations to critically ill children and their families, will host "An Evening with Pat Sajak," the television personality (and regular Candlelight Processional narrator) who just announced his retirement at the conclusion of his 41st season as host of TV's "Wheel of Fortune." The event will be Saturday, August 12, 5:30 to 9 p.m., at Give Kids The World Village 210 South Bass Road Kissimmee, FL 34746. Parking is free. Tickets start at $34.99 (with a VIP experience also available) at this EventBrite page. Ticket proceeds benefit Give Kids The World Village.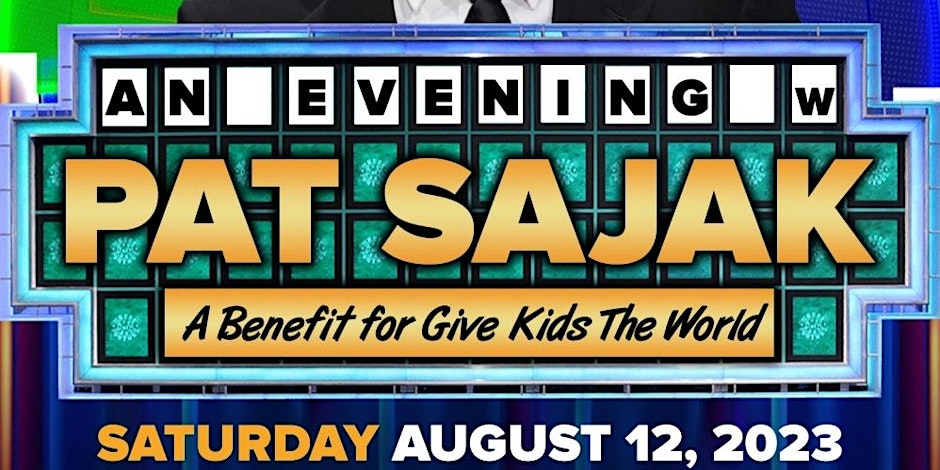 The Village's speaker series continues on August 26 with an evening with Linda Larkin and Jonathan Freeman, the voices of Princess Jasmine and Jafar from the classic Disney animated film Aladdin. Tickets start at $59.99 (with a VIP experience also available) and are available at this EventBrite page.
…REMINDER: Applications and nominations for the 2024 Disney Dreamers Academy are open through October. Students looking to achieve their dreams can apply and, for the first time this year, be nominated for the program at DisneyDreamersAcademy.com. A panel of judges will select 100 students from the thousands of nationwide applicants to participate in the once-in-a-lifetime mentoring program designed to assist young people in identifying and pursuing their dreams. The selected students, along with a parent or guardian, will receive an all-expense-paid trip to Walt Disney World to participate in the program, including career-oriented workshops, leadership seminars and presentations by celebrity guests, community leaders, educators and Disney executives. Over the years, Disney Dreamers Academy has inspired more than 1,500 students from across the country. Each year, graduates have gone on to become doctors, engineers, performing artists, entrepreneurs, Disney Cast Members and more, and some have transitioned into mentors to the Disney Dreamers who followed them.
…Over on Florida's East Coast, Disney's Vero Beach Resort held its 16 annual Tour de Turtles event this past weekend. This conservation event is held in conjunction with venues and organizations at many other places in and around the Atlantic Ocean where sea turtles come ashore to lay their eggs. At Disney's Vero Beach Resort this year, researchers from the Sea Turtle Conservancy and Disney Conservation released two sea turtles: named Madame Leota and Harriet, in honor of the newly released Haunted Mansion film now playing in theaters, sponsored by the Disney Conservation Fund and Disney Cruise Line. The two female sea turtles will be tracked by satellite telemetry to determine where and how far they swim during the migration season, raising awareness about various threats to sea turtle survival. The turtle to swim the furthest distance released by any of the venues participating this year wins the Tour de Turtles "race." More information about the annual event, as well as this year's sea turtle tracking, is available at tourdeturtles.org.
The Usual Writer's Note (Updated)
Face coverings remain optional across all of Walt Disney World Resort. Remember to check this page of DisneyWorld.com for the latest requirements. It remains unlikely that the State of Florida will impose new requirements. As always, be sure to pay attention to updates to the policies around Walt Disney World Resort.
As has been true throughout the past several years, if you're traveling to or from overseas, be sure to check with the places you're visiting and traveling from or through for the latest rules. Though most requirements have been relaxed or removed, it remains important to check on and abide by the most up-to-date COVID-19 testing and vaccine requirements for entering the United States whether as a citizen, permanent resident, or visitor (and be aware of who needs a visa).
Disney Park Pass reservations continue to be required for admission to Walt Disney World theme parks when purchasing undated tickets or an annual pass (in addition to a valid ticket). If your tickets have the Park Hopper option, Park Hopping only becomes available after 2 p.m. daily, and only after you have first visited the park for which you have made a reservation that day. There have been instances where Magic Kingdom has reached capacity and paused admission of Park Hoppers, as Disney reserves the right to do so at all the parks. Passholders are no longer required to make reservations to visit parks after 2 p.m. except for Magic Kingdom on Saturday and Sunday.
Speaking of Annual Passes, sales of new ones resumed back in April. All Passholders may continue to purchase renewals in all tiers, and, now may upgrade pass type before renewal by paying the difference in price. As Disney reserves the right to limit quantities of passes available, sales may pause at any time, so be sure to check https://disneyworld.disney.go.com/passes/ for the latest availability. Logging in to the site with existing MyDisneyExperience credentials can direct you to purchasing opportunities for Florida Residents and Disney Vacation Club Members if those details are already tied to your account.
Note Disney now has a "Courtesy" section included in its "know before you go" webpage on DisneyWorld.com which states:
Be the magic you want to see in the world. You must always remember to treat others with respect, kindness and compassion. Those who can't live up to this simple wish may be asked to leave Walt Disney World Resort.
It is Tropical Storm season for those of us near the Atlantic Ocean. As always, keep an eye on the weather alerts for the region you plan to visit, especially if that involves flying into Central Florida. Disney typically only closes the parks when a significant storm is tracking toward Walt Disney World Resort itself, but your airline may have other thoughts about the forecast.
The usual Florida daily summer thunderstorms are now quite common, they often occur in mid-afternoon, but this summer is already illustrating the axiom that they do not adhere to any fixed schedule. Severe weather can occur in Central Florida at anytime, even when the forecast says 0% chance of rain (and there are occasional times when there is a forecast 100% chance of rain and it does not rain in some places). Have yourself a regular look at the weather forecasts, and be prepared for heat, humidity, and rain; and have a plan for taking cover for when something severe pops up. If you are driving, be extra alert. I've said it before, I'll say it yet again: it's very hot and muggy around here this summer!
Join Our Networks
Follow MousePlanet on Facebook:
Resort Reservations, Ticket Advice & Special Offers
Note: MousePlanet does not edit past Updates to reflect price increases; for up-to-date prices, check the most recent Walt Disney World Resort Update.
The Walt Disney World Resort website lists current offers, deals, and discounts on this page.
Summer ticket offers are available — Disney has a four day/park offer for all guests, and new 3- and 4-day offers for Florida Residents.
For All Guests – 4-Park Magic Ticket for $396 (plus tax)
The $99/day per park (plus tax) tickets are on sale. The 4-Park Magic Ticket includes one admission to each of the 4 Walt Disney World theme parks—Magic Kingdom park, Disney's Animal Kingdom theme park, EPCOT and Disney's Hollywood Studios—for a total of 4 admissions, on 4 separate days. Limit one admission per theme park, and one theme park per day, theme park reservations are not required. Ticket is valid for theme park admission until September 29, 2023, except blockout dates from September 1 to September 4, 2023, but the ticket expires within 7 days of first use or on September 29, 2023, whichever occurs first. For full details, visit this page of DisneyWorld.com.

For Florida Residents – 4-Day Disney Summer Magic Ticket for $229/3-Day for $209 (plus tax)
The $58/day per park (plus tax) four day or $69.67/day per park (plus tax) three day tickets are on sale. Tickets are valid through September 29, 2023, subject to blockout dates: September 1 to September 4, 2023. These tickets require theme park reservations for one theme park per day, but they do not need to be used on consecutive days, so long as they are used by September 29, 2023. For full details, including add-on options, visit this page of DisneyWorld.com.
MousePlanet's travel partner Get Away Today is available to help you book rooms and packages.
NEW Now Get Away Today's Walt Disney World Resort vacation packages can now be booked completely on its website! No cumbersome quotes needed! Simply compare all your favorite Walt Disney World Resort hotels and Get Away Today's hand selected off-property hotels in a few clicks, and then customize for your included tickets for your vacation.
Get Away Today's Walt Disney World Resort vacation packages now have the option to add Layaway Plans, which allow you to pay the total balance up to eight days prior to travel. You can also add their popular "Peace of Mind Plan" when booking a Walt Disney World Resort Hotel, which allows any reschedules and cancellations up to five days prior to travel with no penalty.
When booking with Get Away Today, all Walt Disney World Resort on-site packages include Get Away Today's e-concierge, which includes its Best Price Guarantee, Dining Reservation Reminders, access to their Concierge Team email for help before and during your vacation, and more.
Looking to go beyond Walt Disney World Resort when visiting Central Florida? Check out Get Away Today's Universal Orlando Resort ticket offers too.
Only purchase Disney theme park tickets directly from Disney, an authorized seller, or a travel agency like MousePlanet travel partner Get Away Today! As always, we remind our readers that Walt Disney World Resort theme park tickets are rarely offered at deep discounts unless you are a resident of Florida or eligible for U.S. Military Personnel benefits. Historically, non-Florida residents tend to benefit the most by purchasing tickets in advance (and, of course, being mindful of the rules relevant to those tickets). Don't get scammed! Never buy tickets from an unofficial or secondary outlet, such as through eBay or Craigslist. Never rent or purchase tickets from people approaching you outside Disney property stating they have remaining days or leftover tickets. This practice is against the terms of use for Walt Disney World Theme Park admissions, and may result in denial of entry. There is no way to determine if these tickets are valid until you try to use them to enter the parks.
A Further Word From Our Sponsor (For full offer details and disclaimers, visit GetAwayToday.com)
Summer brings longer park hours, nightly fireworks, exciting entertainment and a NEW special offer!
Walt Disney World Resort has released a 4-Day/4-Park ticket that allows guests to visit each theme park once this summer at an amazing price - roughly $150+ LESS than a regular 4-Day Base Ticket! We're thrilled to let you know that we are selling that special ticket offer at an even lower price than Disney. No theme park reservations are required for these tickets, but there are two sets of blackout dates around the 4th of July and Labor Day.
Get a day at each Walt Disney World Resort Park for even less with huge savings on a 4-Park Magic Ticket from Get Away Today! Through September 29, you can spend a day at Magic Kingdom, Disney's Animal Kingdom, EPCOT and Disney's Hollywood Studios and save big! No theme park reservations required; blackout dates September 1-4, 2023 apply. Save even more when you book your 4-Park Magic Ticket with Get Away Today. Buy your tickets now or call the travel experts at Get Away Today at 855-GET-AWAY (and tell them that MousePlanet sent you).
For those guests who want a more leisurely vacation, you will have more time to experience the Walt Disney World Resort with our 2 Days FREE Walt Disney World tickets! Get a full week of theme park admission for the price of a five day ticket. You can find those tickets here.
&nbsp